Martin John Callanan (UK/IE)
Animation (14 min 14 sec), 2017
A Bank of England five pound note reconstructed from shredded production waste. An animation made form the security shredded remnants of misprinted new polymer Five Pound banknote (G series), which never made it into circulation.
Made possible with the support of the Leverhumle Trust and the Bank of England.
Martin John Callanan is an artist researching an individual's place within systems.
http://greyisgood.eu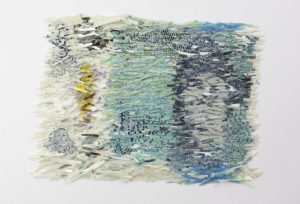 Piecu mārciņu banknotes rekonstrukcija
Martins Džons Kallanans (Lielbritānija / Īrija)
Animācija (14 min 14 sec), 2017
No sasmalcinātiem ražošanas atkritumiem tiek rekonstruēta Anglijas Bankas izlaistā piecu mārciņu banknote. Animācija veidota no drošības dienesta sasmalcinātās, nepareizi nodrukātās polimēra jaunās piecu mārciņu banknošu (G sērijas) paliekām, kas tā arī netika laistas apgrozībā.
Īstenots ar Leverhumle Trust un Anglijas Bankas atbalstu.
Martins Džons Kallanans ir mākslinieks, kas pēta indivīda vietu sistēmās.
http://greyisgood.eu