Clement Valla (USA)
Inkjet print on canvas, 2014
Clement Valla's series The Universal Texture and Postcards from Google Earth are based on images he captured from the screen while traveling through the Google Earth interface. This collection of pictures emphasizes edge conditions, the result of an automated process that fuses aerial photographs and cartographic data. As the source imagery is culled from different periods and vantage points, anomalies in wrapping the 3D projection model appear. Constraints of the algorithms are revealed, forging a hybrid geography. Valla's postcard imagery landmarks a non-site: a space of impossibly tangled readymade highways that evoke network communication. These locations will inevitably be erased over time, as Google's mapping system further analyzes and progresses. Similarly, the Universal Texture sculptures are playful in their questioning of photographic representation, as Valla returns the flat picture plane to three-dimensional reality.
Clement Valla is a New York based artist. He has had recent solo exhibitions at XPO Gallery in Paris and Transfer Gallery in Brooklyn. His work has also been exhibited at The Indianapolis Museum of Art, Indianapolis; Museum of the Moving Image, New York; Thommassen Galleri, Gothenburg; Bitforms Gallery, New York and others. He is currently an assistant professor at the Rhode Island School of Design. http://clementvalla.com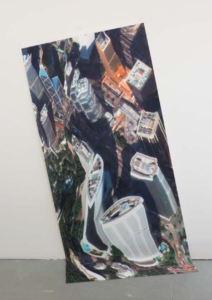 Universālā faktūra (USA)
Klements Valla (ASV)

Izdruka uz audekla 2014
Klementa Vallas sērijas "Universālā faktūra un pastkartes no Google Earth" pamatā ir ekrānattēli, kas uzņemti, ceļojot Google Earth interfeisā. Šo attēlu kolekcija uzsver savdabīgos apstākļus, kas veidojas automatizēta procesa rezultātā, saplūdinot no gaisa ņemtas fotogrāfijas un kartogrāfiskus datus. Tā kā attēli ir atlasīti no dažādiem laika periodiem un rakursiem, 3D projekciju modelī veidojas anomālijas. Atklājas arī algoritmu ierobežojumu, radot hibrīdu ģeogrāfiju. Vallas pastkaršu tēlainība iezīmē ne-vietu: telpu ar neiespējami sagrozītiem lielceļiem, kas rosina domas par tīklotu komunikāciju. Šīs vietas laika gaitā nenovēršami tiks izdzēstas, jo Google kartēšanas sistēma arvien tiek attīstīta. "Universālās faktūras" skulptūras ir rotaļīgas, jo tās rosina jautājumus par fotogrāfisko reprezentāciju, – Valla atdod plakanajam attēlam trīsdimensiju realitātei.
Klements Valla ir mākslinieks no Ņujorkas. Jaunākās mākslinieka personālizstādes notikušas XPO galerijā Parīzē un Transfer galerijā Bruklinā. Viņa darbi bijuši izstādīti arī Indianapolisas mākslas muzejā; Kustīgo attēlu muzejā Ņujorkā; Thommassen Galleri Gēteborgā; Bitforms galerijā Ņujorkā un citur. Pašlaik viņš ir asistējošais profesors Rodailendas Dizaina skolā.
http://clementvalla.com