The Swan Collective / Felix Kraus (DE)
VR experience / stereoscopic 360 video, 2016
NowForeVR is a unique journey through the metaphysics of art. Based on real acrylic paintings by the artist group 'The Swan Collective', the viewer will be able to fly through stereoscopic architectural models, projection-mapped with painted textures. The surround sound is spatial, making the experience very immersive. Get lost in endless architectural islands suspended in space, cascading for all eternity.
The Swan Collective is the pseudonym of the artist Felix Kraus. He embodies five different artist figures created by him, each using his/her own technique. This results in multimedia works using 3D animation, painting, paper embossment, literature, photography and performance.
http://swancollective.com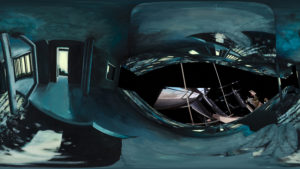 NowForeVR
The Swan Collective / Fēlikss Krauss (Vācija)

Stereoskopiska virtuālā realitāte, 2016
"NowForeVR" ir unikāls ceļojums mākslas metafizikā. Pamatā ņemot īstas akrila gleznām, ko radījusi mākslinieku grupa The Swan Collective, skatītājs var lidot cauri stereoskopiskiem arhitektūras modeļiem, uz kuriem uzgleznotas faktūras ar projection-mapping metodes palīdzību. Apkārtējā skaņa ir telpiska, padarot pieredzi sevišķi imersīvu. Pazūdiet nebeidzamās arhitektoniskās salās, kas iekārtas kosmosā un bezgalīgi krīt kā ūdenskritumā.
The Swan Collective ir mākslinieka Fēliksa Krausa pseidonīms. Viņš iemieso piecas dažādas, paša radītas personības, no kurām katra izmanto savu tehniku. Tā rezultātā tiek radīti multimediāli darbi ar 3D animāciju, gleznām, papīra gofrēšanu, literatūru, fotogrāfiju un performanci. 
http://swancollective.com